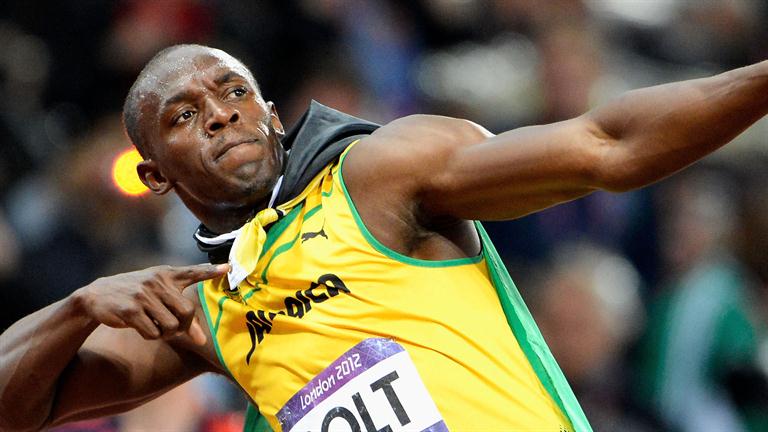 Usain Bolt's full name is "Usain St. Leo Bolt". During his achievements he earned his media nickname "Lightning Bolt". His nationality is Jamaican. He was born on the 21st of August 1986 and is now at the age of 28. His birth was in Sherwood Content, Trelawny Jamaica. He weighs 94 kg and his height is 196 cm or 6 ft 5 in. His sport is Track and Field. His events are Sprints and his club is Racers Track Club.
He is known as the fastest person ever for he was the first man to hold both 100 metres and 200 metres world record since 1977. Not only was he the first man to do that he had also created the world record in the 4x100 metres relay. He had a 2009 record which was a margin for 100m from 9.6 seconds it has been the highest since the start of the record.
In his early years when he was 12 he became the school's fastest runner and when he went to that school at the age of 12 that was when he was showing everyone how fast he was. In his personal life Bolt loves to express his love for dancing! He has a calm, laid back and relaxed character.
Usain Bolt is a very fast and unique runner. Usain Bolt has a very good strategy on how to run very fast. If you watch every move he makes he usually runs with his hands and arms pointing forwards which really pushes him to run faster and faster. I really appreciate you to watch him and to become inspired!
http://cp91279.biography.com/BRAND_BIO_BSFC_157955_SF_2997_005-20140327_V1_HD_768x432-16x9.jpg
I would really appreciate it when you have finished reading my Usain Bolt write up that you may comment down below, because I would like to see your comments and improve in my work. If you comment I will make sure to follow what your comment says and make sure to do it in my next post.
Thank-you